WISLaw Event "Prevention of Harassment & Abuse in Sport" hosted by the SDRCC in Montreal
We are proud to announce that the Canadian chapter of WISLaw will be holding its next event on November 21, 2018 from 5-7 pm at the offices of the Canadian Olympic Committee in Montreal, Québec. 500, boul. René-Lévesque Ouest, Montréal (Qc) Canada, H2Z 2A5 (second floor entrance).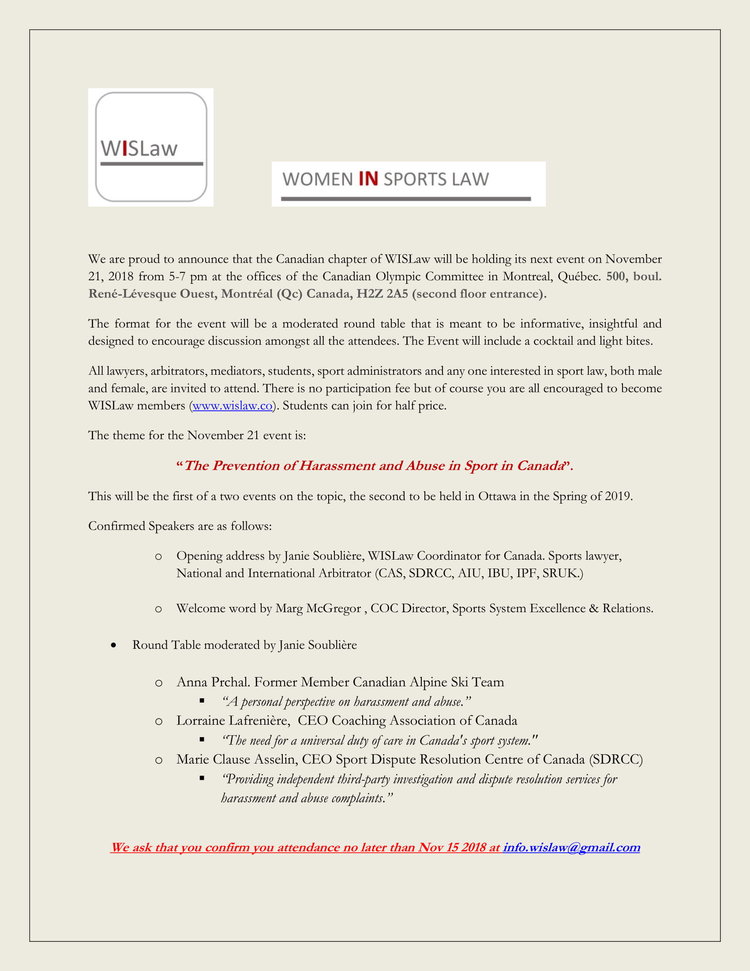 "The Prevention of Harassment and Abuse in Sport in Canada"
This will be the first of a two events on the topic, the second to be held in Ottawa in the Spring of 2019.
Confirmed Speakers are as follows:
– Opening address by Janie Soublière, WISLaw Coordinator for Canada. Sports lawyer, National and International Arbitrator (CAS, SDRCC, AIU, IBU, IPF, SRUK.)
– Welcome word by Marg McGregor , COC Director, Sports System Excellence & Relations.
Round Table moderated by Janie Soublière
– Anna Prchal. Former Member Canadian Alpine Ski Team
"A personal perspective on harassment and abuse."
– Lorraine Lafrenière, CEO Coaching Association of Canada
"The need for a universal duty of care in Canada's sport system."
– Marie Clause Asselin, CEO Sport Dispute Resolution Centre of Canada (SDRCC)
"Providing independent third-party investigation and dispute resolution services for harassment and abuse complaints."