WISLAWyers speak at the 1st International Sports Congress of Iran at its National Olympic Committee (NOC)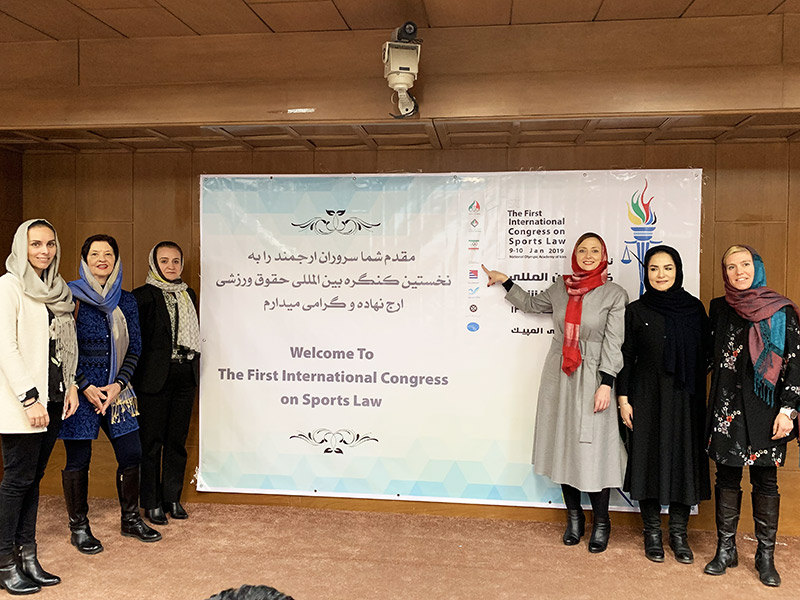 WISLAW started the new year with an exciting invitation received by the Iranian WISLAW member, Dr. Parand Azizi, CAS arbitrator and advisor to the NOC Iran, to hold workshops at the NOC headquarters in Iran, being the country´s very first International Sports Congress. A small group of WISLAW sports law experts travelled to Iran in early January to share their knowledge, by holding several workshops in diverse topics of sports law, during a two-day conference at the NOC in Tehran, Iran on 9thand 10th January 2019. The WISLAWyers that were making their way to Iran, were made up of WISLAW and MS International Law founder Melanie Schärer, who organized the trip and its logistics. Brigitte Perez-Frei, a world traveller and recently retired Swiss Trademark Attorney, Nuray Eksi, Professor of Private International Law at the Yeditepe University Law Faculty in Istanbul, Andrea Zimmermann-Sherpa, CAS Counsel and founder of Wild Yak Expeditions in Nepal as well as Valérie Horyna, Senior Legal Counsel at FIH and blockchain enthusiast.
Upon its warm welcome in Iran by the hosts, the group experienced a few days of sightseeing in the beautifully historical rich city of Esfehan. Followed by the first impressions and tastes of the fascinating country, the group indulged itself into holding intensive workshops on several hot sports law topics, amongst which talks were held about Good Governance in sports, Dispute Resolution in football, the Court of Arbitration for Sports as well as human rights and more. The Iranian sports world was thrilled by the knowledge brought to Tehran by the WISLAWyers and the opportunity was taken to have a lot of their questions answered during the workshops.
The mixed audience of about 200 persons attending both days, consisted of both female and male sports lawyers, football club owners, students and professors as well as sports journalists. The event, first time held in its format, was even broadcasted on Iran´s national television and seemed to be a success. To honour the event and its speakers, an official Iranian post stamp of the Congress was produced, with the imprint of the WISLAW logo! It was an honour for WISLAW to be the first group speaking at the NOC in Tehran by bringing their sports law expertise to its country. Kheili mamnoon, Parand!