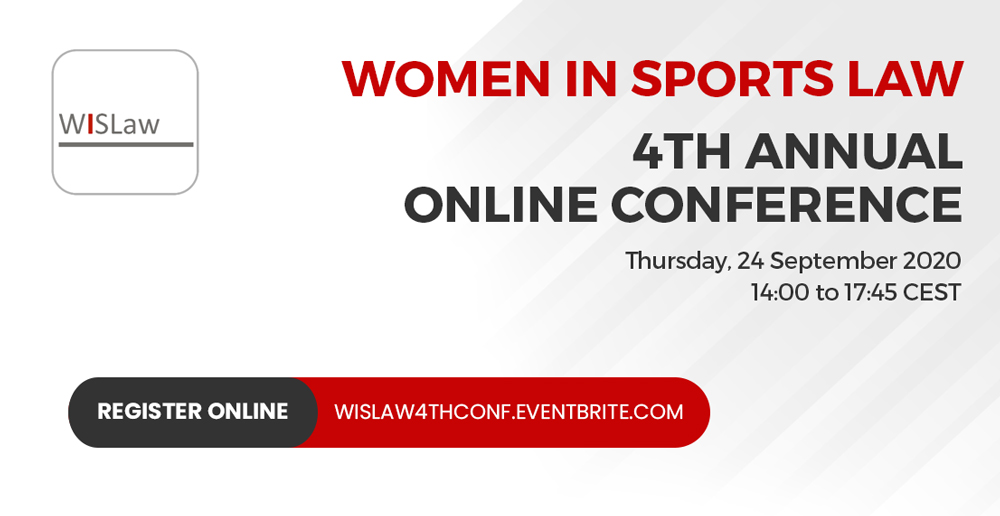 WISLaw 4th Annual Online Conference
14.00 – 14.05 | CONFERENCE OPENING: THE YEAR IN REVIEW
Dr Despina Mavromati | WISLaw Co-Founder and Board Member
14.05 – 14.40 | PANEL SESSION: INTERNATIONAL SPORTS IN A POST-PANDEMIC WORLD
Moderator: Cassandra Heilbronn, Regulation Legal Manager – Sports & Entertainment (KSA & AU), with panelists:
Alejandra Salmeron Garcia | Senior Legal Counsel, Fédération Internationale de l'Automobile (CH & ES)
Namrata Chatterjee | League Secretary, Indian Super League (IND)
Amelia Moore | Legal Affairs Manager, Fédération Internationale de Volleyball (CH & UK/CAN)
Valérie Horyna | Senior Legal Counsel, Fédération Internationale de Hockey (CH)
14.45 – 15.00 | SNAPSHOT SESSION: ANTI-DOPING – 2021 ONWARDS
Moderator: Erika Riedl, CIES Senior Legal Counsel & Consultant, with presenter:
Janie Soublière | Sports Lawyer and Arbitrator, Soublière Sport Law (CAN)
15.10 – 15.45 | PANEL SESSION: MOVING TOWARDS GENDER PARITY
Moderator: Tammi Gaw, Attorney, Founder of Advantage Law (US) with panelists:
Moya Dodd | WISLaw Honorary, President, Partner, Gilbert & Tobin, ICAS member (AUS)
The Hon. Dr. Annabelle Bennett | Former Judge of the Federal Court of Australia (AUS)
Tricia Smith | President, Canadian Olympic Committee, IOC and ICAS member (CAN)
15.50 – 16.25 | ROUND TABLE: ONLINE DISPUTE RESOLUTION: PROS & CONS
Moderator: Anna Smirnova, Attorney, monteneri sports law (ES & RU), with panelists:
Kylie Brackenridge | Senior Case Manager, Sport Resolutions (UK)
Andrea Sherpa-Zimmermann | Legal Counsel, Court of Arbitration for Sport (CH)
Brianna Quinn | Lawyer, Lévy Kaufmann-Kohler (CH & AU)
16.30 – 17.05 | ROUND TABLE: SPORTS LAW & HUMAN RIGHTS
Moderator: Paul Godin, President, Katalyst Resolutions (CAN), with panelists:
Gigi Alford | Director of Sport and Human Rights, World Players Association (CH & USA)
Barbara Reeves | JAMS Mediator & Arbitrator (USA)
Andrea Carska-Sheppard | Lawyer, Arbitrator and General Counsel, Workplace Options LLC (CAN & SK)
Achta Mahamat Saleh | Director, Legal Affairs Division, Confédération Africaine de Football (EG & TD)
17.15 – 17.45 | WORKSHOP 1:
SUCCESSFUL NEGOTATION THROUGH POWERFUL COMMUNICATION
Dr Lois Frankel (US), author of See Jane Lead and Nice Girls Don't Get the Corner Office, will take delegates through negotiation skills in terms of communication methods and how to position yourself as a person of influence.
17.15 – 17.45 | WORKSHOP 2:
DEVELOPING A CAREER IN SPORTS LAW: PRACTICAL GUIDANCE
Carol Roberts|Arbitrator/Mediator (CAN)
Europe: Montse Diaz Marí, Spain
South America: Romina Fernandez, Chile & Perú
North America: Michelle Krech, Canada & USA.
Africa: Ojonoka, Agudah, Nigeria
Asia: Kajri Roy, India
17.50 – 17.55 | CONFERENCE CLOSE: THE YEAR AHEAD
Catherine Pitre | WISLaw Board Member
WISLaw Members: Free | Non-Members: 60 CHF
Please note that the programme is subject to change.