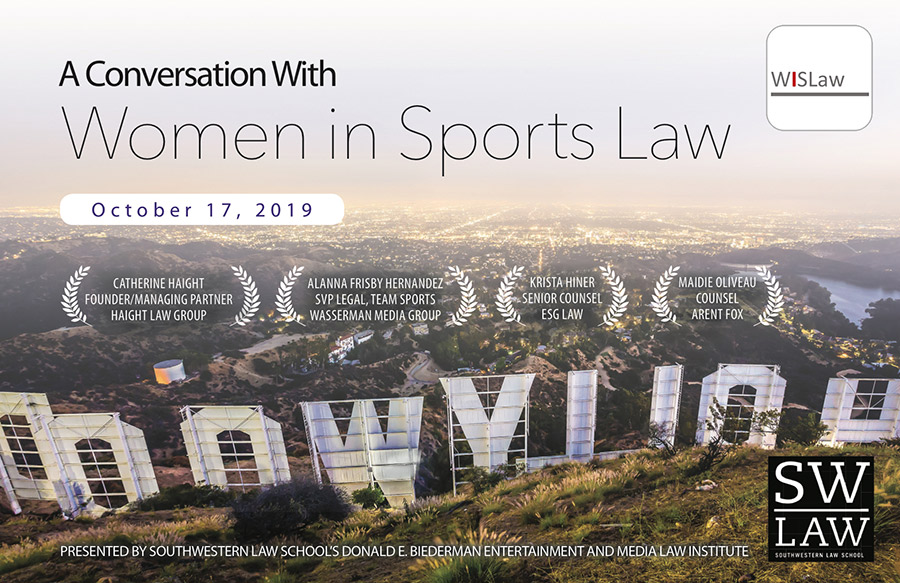 WISLaw & Southwestern Law School event in Los Angeles (CA) on October 17, 2019
"A Conversation with Women In Sports Law" 
October 17, 2019 | 7:30 p.m. Southwestern Law School, BW, 2nd Floor

Discussion led by our WISLaw Regional Coordinator Lindsay Brandon and WISLaw Member Lauren Brock (Law Offices of Howard L. Jacobs), with our WISLaw Members Maidie Oliveau (Arent Fox) and Catherine Haight (Haight Law Group)
Los Angeles has long been an iconic hub for sports and only continues to grow. With that growth requires the advisement of lawyers versed in sports law, and the opportunities to participate in the L.A. sports law movement.
Come learn about sports law from some of the key attorneys helping shape the sports landscape here in Los Angeles. Topics include immigration, eSports, legal issues surrounding the Olympic Movement, and agency representation.
For more information, contact Southwestern's Biederman Institute at (213) 738-6602. There is no cost to attend, but reservations are required.
RSVP at SWLaw.edu/RSVPWomenSLwww.swlaw.edu/BEMLI